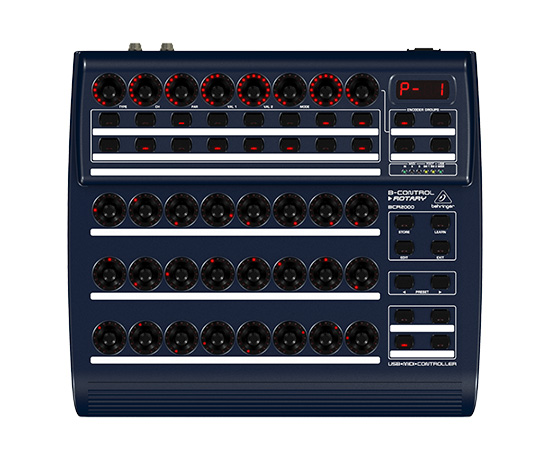 Using the BCR2000 with LrControl
LrControl supports the BCR2000 with the device default settings. So after you have installed LrControl, you can just take it out of the box, plug it in and it will work with LrControl. Use PRESET 1.
If PRESET 1 is not in factory settings, you can send the preset data to your BCR2000 from the LrControl plug-in. You can then store it in any preset you like. Find the menu in Lightroom-> Help-> Plug-in Extras-> Controller Setup.
Layers
The function of the encoders can be changed using layers. Each layer defines the meaning of the bottom three rows of encoders.
The LrControl layers are selected using the bottom row of buttons. The button corresponding to the selected layer will light up.
Encoder Groups
The encoder groups switch the function of the encoders, so they act like a kind of layer just for the encoders.
---
Encoder Turn
Encoder
Group 1
Group 2
Group 3
Group 4
A1
Temperature
Split Toning Shadow Hue
Post Crop Vignette Amount
Gray Mixer Red
A2
Temp. Fine Adjustment
Split Toning Shadow Saturation
Post Crop Vignette Midpoint
Gray Mixer Orange
A3
Tint
Split Toning Highlight Hue
Post Crop Vignette Roundness
Gray Mixer Yellow
A4
Saturation
Split Toning Highlight Saturation
Post Crop Vignette Feather
Gray Mixer Green
A5
Sharpness
Split Toning Balance
Post Crop Vignette Highlight Contrast
Gray Mixer Aqua
A6
Sharpen Radius
Grain Amount
Gray Mixer Blue
A7
Sharpen Detail
Grain Size
Gray Mixer Purple
A8
Sharpen Edge Masking
Grain Frequency
Gray Mixer Magenta
Encoder Push
Encoder
Group 1
Group 2
Group 3
Group 4
A1
After View
After View
Toggle Red Label
After View
A2
Before View
Before View
Before View
A3
Before/After Horizontal
Before/After Horizontal
Toggle Yellow Label
Before/After Horizontal
A4
Before/After Vertical
Before/After Vertical
Toggle Green Label
Before/After Vertical
A5
Zoom Out Some
Zoom Out Some
A6
Zoom In Some
Copy All Develop Parameters
Toggle Blue Label
Zoom In Some
A7
Toggle Zoom
Paste All Develop Parameters
Toggle Purple Label
Toggle Zoom
A8
Reset All Develop Adjustments
Reset Last Develop Parameter
Reset All Develop Adjustments
Button
Function
B1
Toggle Reject
B2
Toggle Pick
B3
Set Rating 1
B4
Set Rating 2
B5
Set Rating 3
B6
Set Rating 4
B7
Set Rating 5
B8
Redo
Button
Function
C1
Select Layer 1
C2
Select Layer 2
C3
Select Layer 3
C4
Select Layer 4
C5
Select Layer 5
C6
C7
C8
Undo
Button
Function
G1
Sync Controller to Photo
G2
Toggle Develop
G3
Previous Photo
G4
Next Photo