LrControl 2.0.3
New Functions
This update adds the functions Offset-X and Offset-Y.
LrControl 2.0.2
This update fixes problems found in 2.0
Fixed Button Functions
Some functions are based on keyboard shortcuts. And some of these did not work when Lightroom was using a language other than English. The functions "Auto Tone", "Rotate Left", "Rotate Right" and "Virtual Copy" did not work in German, French, Italian, Spanish and Swedish. In French, a few more functions did not work, these are also fixed.
LrControl 2.0
Icon Platform-M
The Platform-M was delayed for a very long time, but it is now available. And it does not disappoint! It is a solid controller with high resolution faders.
Customize Layer Panel
When you select a layer, an associated panel is revealed. you can now change which panel is revealed.
More Layers
Many controllers got some extra layers. Yuo don't have to use them but if you need more space for customization, LrControl 2.0 has it.
Customize Tool Mode
Tool Mode was fixed upto now, but from 2.0 you can customize it.
Tool Mode Switch
If you like to keep using the controller for global changes while using the mouse for local changes in tool mode, you can now switch off tool mode for LrControl. And you can also bind this function to a controller button, so you can toggle tool-mode when you need it.
Extra Layers
Many devices have some extra layers.
New Functions
VignetteAmount, VignetteMidpoint
Signed Installer on Windows
The Windows installer is now digitally singed. The Mac OS Installer was already signed. A signed installer shows you the installer was not modified after it was build and identifies the company that produced it.
LrControl 1.9.6
This update fixes some problems found in 1.9.x
2016
LrControl 1.9
Auto Sync
LrControl now also automatically syncs the controller whenever you change a parameter in Lightroom without using the controller. For example if you drag a slider, apply a preset, go back in the history, etc.
Button Lights
The lighting of buttons is now in line with the function of the button, even if you change the function of the button. Also many more functions use the button lights, currently more than 40. In principle all functions that toggle something show the toggle-state using the button lights, if the current state can be determined. For some functions LrControl cannot determine if the light should be on or off, in that case the light remains off.
LrControl 1.8
Various small improvements and bug-fixes.
Behringer X-Touch Compact Support
LrControl 1.7.3
This update removes the error message "No Supported Controller Found" that should not be there when a BCF2000 or BCR2000 is connected. The error message was wrong and the controller would work.
LrControl 1.7.2
Auto Sync
LrControl now detects when the current photo has changed. And automatically syncs your controller when there is a different photo. Tool-Mode is also automatically detected when you select a local adjustment tool.
Behringer BCR2000 Support
Very good value controller. You get 32 encoders for an affordable price.
DJ TechTools Midi Fighter Twister support
A very compact and sturdy controller. And it is very colorful. Each knob can be illuminated with a color. When mixing colors, the knobs have the appropriate color.
Novation Launchpad Mini support
If you like buttons, get this one! It has 80 buttons. Use it to add more buttons to your LrControl setup, or use it as your main controller. You can develop photos with buttons to increase or decrease develop parameters.
Develop Photos with Buttons
Some new functions to adjust develop parameters with buttons. These functions were developed for the Launchpad Mini, which only has buttons. But the functions are available as a configurable option for all controllers
The new functions are "Set Develop Parameter" and "Adjust Develop Parameter". The "Set Develop Parameter" function lets you set any parameter to a fixed value with the press of a button. The "Adjust Develop Parameter" lets you increase or decrease a develop parameter by a value you choose. You can also use the default Lightroom change, which basically tells Lightroom to increase or decrease that parameter, so you get the same result as when you use the + and - keys.
Change Layer Names
When you have customized your control functions, the layer names may not be a good fit anymore. Now you can change the layer names. The layer name is displayed briefly when you change layers.
List of Functions Sorted
As the list of functions is now quite long, it can be hard to find what you want. Now the list of functions is alphabetically sorted. Some functions have been renamed slightly, so functions that are related still appear together.
More new functions
Some more keyboard-shortcut based functions were added. Show Clipping, Import Photos and Video, Export, Email, Copy Develop Settings, Paste Develop Settings Cycle Info Overlay, Add to Target Collection and Sync Settings...
Note that there are now two copy/paste functions that do not mix. The existing copy and paste functions are now named "Copy all develop parameters" and "Paste all develop parameters". The first one stores all parameter values inside the LrControl plug-in memory, the second pastes them. The "Copy Develop Settings" and "Paste Develop Settings" use the Lightroom build-in copy paste function. So these two pairs of functions operate independently.
LrControl 1.6.1
This update fixes a problem with the Mac version of LrControl, it was sending a "Decrease Rating" command to Lightroom during startup.
There is also one new function (for Mac and Windows), "Edit in Photoshop" that you can bind to a button.
LrControl 1.6
Generate Controller Reference
After you have made some customizations, you can now view what function you assigned to each control. In 1.6 you can generate a reference page from the LrControl menu in Lightroom. Choose Help->Plug-in Extras->(LrControl) View Controller Functions. This will generate a web page for all controllers and opens these in your default web-browser. Note that the generated pages are saved on your computer and can be viewed without an internet connection. These pages can also be printed.
Over 25 New Functions
LrControl now has over 200 functions. The new functions in 1.6 use keyboard shortcuts to activate functions in Lightroom. If I missed an important shortcut, please let me know. Note that for these functions to work, Lightroom must be the foreground application.
Keyboard Shortcut Functions:
Paste Settings from Previous, Create Virtual Copy, Rotate Left, Rotate Right, Remove from Collection, Copy After Settings To Before, Copy Before Settings To After, Swap Before And After Settings, Next Screen Mode, Toggle Side Panels, Toggle All Panels, Next Light Mode, Toggle Dim Lights, Toggle Full Screen Preview, Return Key, Escape Key, Crop, Spot Removal, Graduated Filter, Radial Filter, Adjustment Brush, Guided Upright, White Balance, Auto White Balance, Auto Tone, Export Previous, New Snapshot
Use more buttons on the iCON iControls Pro
This device can now be configured to use the top row of "Sel" buttons. For more details see the controller page: iCON iControls Pro.
LrControl 1.5.1
This update removes the communications changes that were introduced in 1.5. These changes caused more problems than they solved.
LrControl 1.5
New Functions
There are a couple of new functions. You can program these functions on any button you like using the customize function.
Go to Library Grid
Does the same thing as pressing G on the keyboard. Goes to Library mode and shows the grid.
Survey
Enter survey mode or go back to develop loupe when in survey mode.
Compare
Enter compare mode or go back to develop loupe when in compare mode.
Apply Develop Preset
Applies a develop preset to the current photo. When assigning this function to a button you will get a dialog where you select the preset. Only build-in and user presets are currently supported. This selected preset is then applied when you press the button on the controller. You can assign as many develop presets as you have buttons available on your controller.
Improved Communications
The flow of information from your controller to LrControl is now improved. When the controller sends more data that can be processed, LRControl will skip some messages instead of falling behind more and more.
LrControl now monitors the communication speed regularly. If it seems the connection between controller and LrControl has stalled, the connection is reset. Some customers reported experiencing this happening often on Windows 7.
Support for other Midi Devices
If you already own a midi device and it's not one of the controllers supported directly in LrControl, you can now get it working with LrControl. But it does require an editor program for your device to configure it.
Customize Layer Buttons
You can now also change the function of buttons used for layer switching. There are also new "Next Layer" and "Previous Layer" functions that you can assign to buttons, so you can free up to 6 buttons for other tasks.
LrControl 1.4.2
Customization
You can now customize LrControl. To do so, open the LrControl setup window. You can find it in the menu: Help->Plug-in Extras->Controller Setup.
There you can find Customize, Export, Import and Reset buttons. to start customizing first decide which control you want to change, press the customize button. then you move the control and then you can pick a new function for it.
New Functions
There are a about twenty new functions.
Copy and Paste
Copy stores all develop parameters and Paste writes them over your current photo. It works independently from the Lightroom build-in Copy and Paste function. So you don't get a dialog to select parameters and you have a separate copy. In other words, what you copy with LrControl's copy function can only be pasted using LrControl's paste function.
Reset Last Develop Parameter
This resets the last changed parameter to the default value. So if you want to reset a particular parameter, first change it using the controller, then do the "Reset Last Develop Parameter".
Selection
There are a couple of new functions for changing the selection.
Color Labels
You can now set color labels using LrControl.
LrControl 1.3.1
Demo Time Mac
1.3.1 fixes 1 minute demo time on Mac OS X, it is now 10 minutes like it should be.
Feedback Message
Showing a feedback message is now on by default. Note that if you have used 1.3, the feedback message setting will remain what it was. So you probably have to turn it on if you want to try it.
LrControl 1.3
The 1.3 brings LrControl to a new level with a lot of improvements and new features.
Local Correction Tools
When you use one of the tools in Lightroom, like the adjustment brush or the radial and graduated filters, LrControl lets you control the tool with your midi controller.
Lens Corrections
The manual perspective correction tools can now be controlled as well.
Visual Parameter Feedback
New option to show a brief message naming the parameter you just changed. This can be useful if you have the panels hidden.
Keep panels hidden
If you do not need to see controls moving in the Lightroom panels, you can switch off revealing them now. You can keep the panels hidden so you have more room for your photo.
LrControl 1.2
Temperature Fine Adjustment
There is a new function for making small adjustments to the color temperature.
Added Missing Parameters
For the BCF2000, the color noise parameters were missing.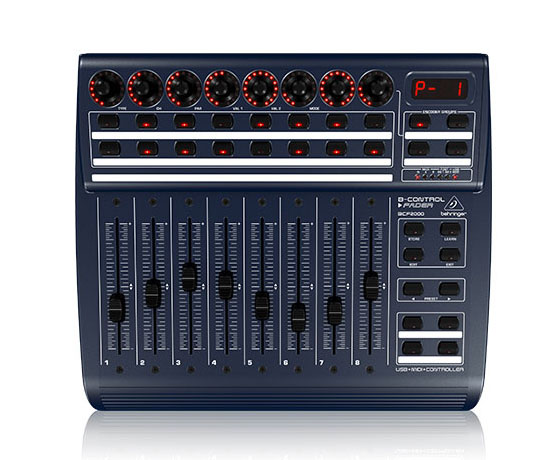 LrControl 1.1
New controllers supported
Version 1.1 adds support for two new devices from Behringer, the BCF2000 and the X-TOUCH MINI.
New Functions
A couple of new functions were added. You can now select a before/after view in horizontal or vertical mode.