Using PrControl
On this page you can get an introduction to using PrControl.
The first thing to do is to click the View Functions button in the setup dialog. This will show you what the controls do.
Viewing Functions
To see an overview of the currently configured functions for your controller, press the "View Functions" button in the setup dialog. With this overview you can find which controls to use for the task you want to do. And you also use it to plan and verify any changes you want to make to the default configuration.
Controller Options
If you have a controller that supports the MC-mode protocol, enable that protocol on the controller and set the Controller Mode to MC. If you have an MCU-Pro or X-Touch, the MC mode is used automatically, leave the mode set to Default.
The Import and Export Configuration buttons can be used to backup and restore your configuration. Or to take your configuration to another computer.
Assign Controller Functions
Click the View Functions Button in the setup. Use this dialog to adjust the functions of your controller.
Start with operating the control you would like to change, it will appear in the left panel. Then select the function to assign to it in the right panel. To find a particular function, use the search-box at the top.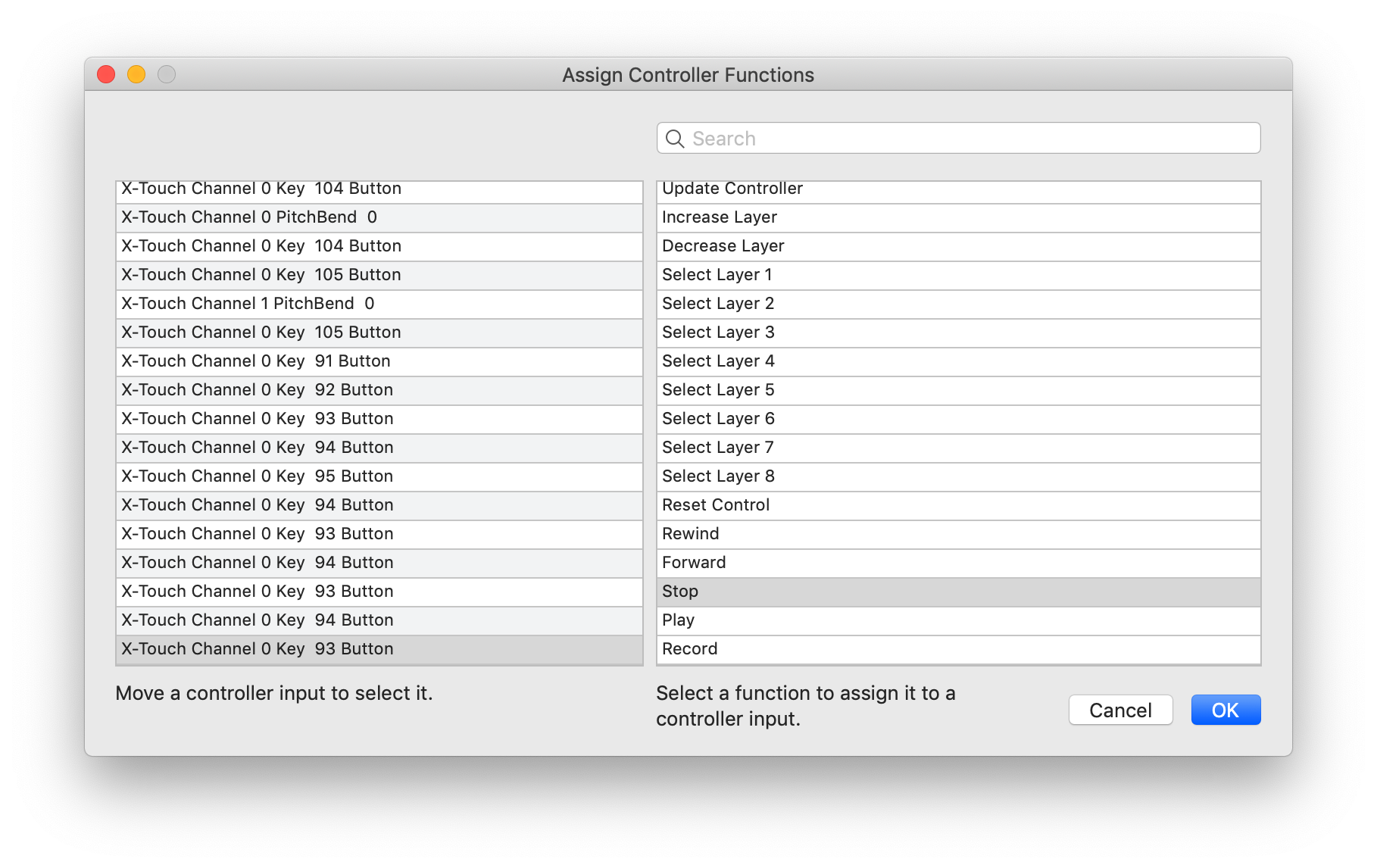 Use Interface Commands with Caution
Among the many commands that Premiere Pro accepts, some trigger dialogs, or show certain panels. While these commands generally do what you expect, some can cause Premiere Pro to crash.
Adobe is working on fixing these problems. But if you encounter a crash, be sure to submit the crash reports to Adobe.
License and Trial Mode
You are free to try out PrControl as long as you need. But the trial mode is intended for evaluation only. Some functions are not available in trial mode. In the assign functions dialog, unavailable functions are marked as locked. And when you use "View Functions", the unavailable functions are in grey italics.
The license can be used by you on any of your computers. If you have multiple people using PrControl, every individual must use a separate license. If you use both Mac and Windows, purchase a license for the system you want to use first, Then send an email to get the license for the other platform free of charge.
The Buy button in the PrControl license dialog will take you to the store page.
Advanced Usage
With PrControl, the sliders, knobs and buttons can have multiple functions. Go to the advanced usage page to learn more.
Support
If you need help or have questions or feedback, please send an email. Also suggestions for improvements are very welcome.
---
Tutorial Videos
Watch tutorial videos for PrControl.